We are looking for workshop leaders for our next biennial event. If you are interested please send us an email at This email address is being protected from spambots. You need JavaScript enabled to view it. and we will get in touch with you.
Leading an Expanding your Horizons (EYH) workshop
Workshop leaders play an important role at the EYH biennial event by sharing their personal stories with the girls aged 11-14 years old, and leading them through engaging hands-on activities to help them see that careers in Science, Technology, Engineering and Mathematics (STEM) are exciting and within their reach.
Where possible, workshops should be given by women role models, who are experts in their field. On the day of the event, you will be expected to run your workshop 3 times, at 9h30, 11h00 and 13h30.
Agenda for the day of the event (in French)
The size of the groups will be between 13-15 girls. The duration of the workshop is 75 minutes. Our volunteers will ensure that the workshop participants are brought to your room.
The languages of the workshops are:
French only, 
English only 
or 2 workshops in French and 1 in English
KEY elements for designing a good EYH workshop
Must be fun – the goal is to inspire and engage not teach!  A boring lecture will only serve to penetrate boring stereotypes.


Activities are hands on and age appropriate – the golden rule is to have 5 minutes of the participants doing something for every minute of talking.


Role models need to share personal stories about their lives and their interest in STEM – demonstrate that in real life women can pursue STEM careers and still have fulfilling lives.
Registration procedure
Step 1: Send us an email at This email address is being protected from spambots. You need JavaScript enabled to view it..
Step 2: The Events Manager will contact you to confirm your participation in the upcoming biennial event and will send you a link for the online information form.
Use this form to inform us of:
hardware and software requirements
number and names of workshop leaders/helpers
numbers of vouchers for lunch and car parking
time of arrival and entrance to the building
language of the planned workshops to be run
etc.
Step 3: Each team member must register for the event on the EYH APP.
Step 4: Finally, if required, please complete the Expense Approval form (French and English). See section "Reimbursement for materials" below for more information.
If you need assistance with creating a workshop activity, title, or description, please contact the Events manager at This email address is being protected from spambots. You need JavaScript enabled to view it.
For returning workshop leaders
The data you entered last year in the registration form was saved and you can copy it into the new form so that you don't have to enter it again.


Check-in 

Each team member must check-in and pick up their pouch from the "Bureau des animateurs" either:
Between 17:00 – 18:00 the day before the event, or
Between 7:00 – 8:00 on the day of the event
Your pouch will contain a timetable, internet passwords, lunch vouchers, car parking vouchers and invitations to the cocktail for after the event. 
A room has been allocated to all presenters to leave coats and belongings and where you will be provided with lunch. The number of lunch and car parking vouchers should be pre-ordered.

Unloading/uploading materials
The access for unloading/uploading materials is from Boulevard Carl-Vogh, entrance Baud-Bovy. Please note that it is important to unload as fast as possible on the morning of the event, to allow other participants to come in and unload. You cannot park in this area; it is the firefighter's entrance and needs to be cleared very fast.

Parking
Parking Uni Mail: 2 entrances (height 1.95m)
(The dimensions of the doors for the pedestrian exit are 1.90m wide x 2.10m high)
Quai Ernest Ansermet 14
Boulevard Carl-Vogt 102
https://www.geneve-parking.ch/fr/parkings/uni-mail
Google map


Parking Quai Ernest-Ansermet: 1 entrance
Quai Ernest-Ansermet 18
https://www.geneve-parking.ch/fr/parkings/quai-ernest-ansermet
Google map
You will be reimbursed for parking if you use one of these two parkings and if you have made your requested in advance.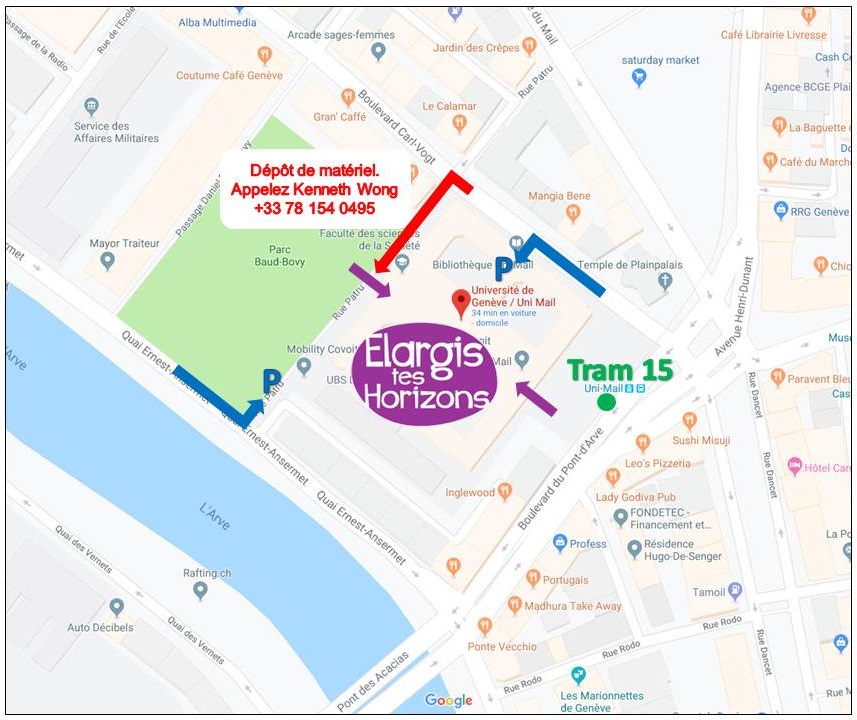 Reimbursement for materials
EYH will reimburse the workshop leaders for any reasonable cost of materials not already donated by your company/organisation. An estimate for the cost of materials must be submitted and approved before the event. This will be the maximum amount you will be reimbursed after the event. 
No fee is paid to the workshop leaders and co-workers for their time spent during the event. Travel costs to the venue will not be reimbursed.
Complete the following steps to claim out of pocket expenses for the workshop:
Step 1: The workshop leader completes the Expense Approval form (French and English) with the first estimate of materials and costs, and sends it to the events manager at This email address is being protected from spambots. You need JavaScript enabled to view it.
Step 2: The Expense Approval form is returned to the Workshop leader with approval or questions
Step 3: Workshop materials are purchased by the workshop leader or team.  Please record the actual amount spent on the form. Keep all receipts!
Step 4: Provide the receipts to the Events Manager on the day of the event or send a scan of the receipts after the event to This email address is being protected from spambots. You need JavaScript enabled to view it..
Step 5: Your expenses will be reimbursed as a bank transfer within 4 weeks of receipt of the receipts.